CHEVRON HOUSTON MARATHON (posted January 26th)

My photos from the race have been posted. Click here to view them.
* * * * *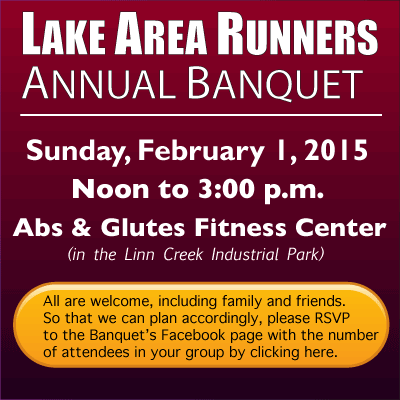 * * * * *

CHEVRON HOUSTON MARATHON (updated January 19th)

At the Chevron Houston Marathon on Sunday (January 18th), Jim McDermott ran his fastest marathon since the 2013 Bass Pro Marathon, and the fastest for any Lake-area runner so far in 2015. Jim finished in 4:08:33, and placed 38th (of 186) in the 60-64 age group.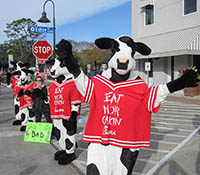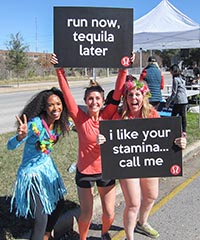 Perfect weather brought out an estimated 200,000 spectators,
including belly dancers, superheroes, bands, and even a few cows.
The other Jim from the Lake area finished the marathon in 5:19:42, placing 302nd (of 355) in the 55-59 age group.
Tara Grantham's son, Joe Frazier, finished in 3:29:03 and placed 81st (of 432) in the 25-29 age group. Joe finished in 3:10:19 at last year's race.
Lots of other photos were taken during the race and will be posted as soon as I can edit and annotate them.
* * * * *
WALT DISNEY WORLD MARATHON WEEKEND (posted January 11th)

Congratulations to Brad Hinkle of Lake Ozark for completing the four-race Dopey Challenge at the Walt Disney World Marathon Weekend in Orlando, Florida, this past weekend.
The Dopey Challenge consists of a 5K, 10K, half marathon and marathon run on successive days. Here are Brad's finish times for the four events.
| Day | Race | Finish Time | Division Place |
| --- | --- | --- | --- |
| Thursday, Jan 8 | 5K | 43:11 | NA |
| Friday, Jan 9 | 10K | 1:25:01 | 479 of NA |
| Saturday, Jan 10 | Half Marathon | 3:09:48 | 1081 of NA |
| Sunday, Jan 11 | Marathon | 6:45:45 | 1188 of NA |
This wasn't Brad's first time at the Walt Disney World Marathon Weekend. In 2011, he finished the marathon in 6:08:56.
* * * * *
MISSISSIPPI BLUES MARATHON & FIRST LIGHT MARATHON (updated January 11th)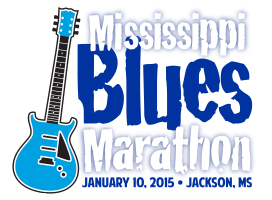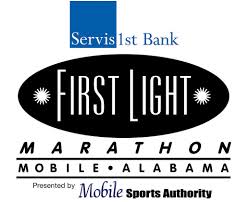 Todd Raney completed the second two-day/two-marathon weekend of his career this past weekend. (His first was the I-35 Challenge last October that included the Waddell & Reed Kansas City Marathon and Des Moines Marathon.)
On Saturday (January 10th), Todd finished the Mississippi Blues Marathon in Jackson, Mississippi, in 4:21:44 and placed 25th (of 82) in the 45-49 age group. Full results can be found here.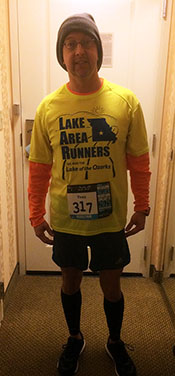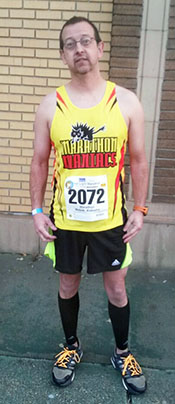 Todd Raney
in his
Lake Area Runners
shirt on Saturday, and new
Marathon Maniacs
shirt on Sunday. (Photos provided.)
On Sunday, Todd finished the First Light Marathon in Mobile, Alabama, in 4:57:22. He placed 41st (of 55) in his age group. Full results can be found here.
Mississippi and Alabama become the 16th and 17th states in which Todd has completed a marathon (or longer). He's now one-third of the way to becoming a 50-state finisher.
Some interesting side notes from the weekend's races:
The overall winner of the First Light Marathon was a college student doing his very marathon. His winning time was 2:49:31.
"Marathon Man" Trent Morrow, who set a world record in 2013 by completing 160 marathons, ran both marathons. He finished Mississippi Blues in 5:50:16 and First Light in 6:32:16.
* * * * *

ELDON TAKEDOWN TEAM 5K RUN/WALK (posted January 22nd)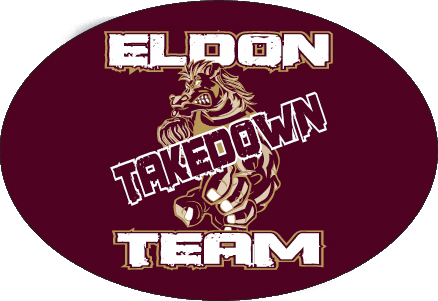 The Eldon Takedown Team is holding its second annual 5K run/walk on Saturday, February 21st. The start/finish will be at the public safety building on S. Oak Street in Eldon (map).
The run/walk starts at 9:00 a.m., with race-day registration opening at 8:30. The entry fee is $15 if you register on or before February 16th. After that date, the fee rises to $20. T-shirts are only guaranteed to those who pre-register.
Click to download a registration form. (The registration form shows an event date of February 21, 2014. Ignore the incorrect year.)
* * * * *
BLUE LIPS GOLD HEART 5K RUN AND PLUNGE (posted January 14th)


The Waynesville FFA is hosting their first annual Blue Lips Gold Heart 5K Run and Plunge (Facebook page) on Saturday, February 21st, at the Waynesville City Park (map). (Waynesville is located near Fort Leonard Wood, about 30 miles southeast of Camdenton.) The event is a fund-raiser for the local food pantry and the Waynesville FFA Booster Club's scholarship fund.
The timed 5K run will start at 9:00 a.m., with race-day registration opening at 8:00 a.m. An optional polar plunge will take place after the 5K.
The entry fee is $25 if you register by January 19th. After that date, the fee rises to $35. Those who register by January 19th will be guaranteed a t-shirt on race day. All others will receive t-shirts as supplies last.
The event is posted on the Waynesville Career Center's website. The registration form can be found by clicking on a link at that webpage. Alternatively, you can download a registration form and/or race flyer directly.
* * * * *
POLAR BEAR STRUT 5K RUN/WALK (posted January 4th)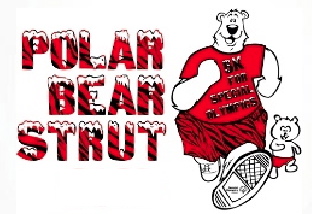 The granddaddy of all local 5Ks, the Polar Bear Strut, returns for its 14th year on Saturday, February 28th. The event is a benefit for Special Olympics Missouri and is hosted by the Osage Beach Police Department.
The run/walk starts at the Osage Beach City Hall on Osage Beach Parkway. The event information page doesn't indicate a starting time as of yet, but it's been 10:00 a.m. for the last 13 years. (Race-day registration has usually opened at 8:30 or 9:00.)
The entry fee is a donation or fund-raising minimum of $50. Online registration and fundraising is available.
If this will be your first time at the Polar Bear Strut, be sure to wear your hill-running shoes, because the course is nothing but hills. (Even the seemingly "flat" section on Osage Beach Parkway has a slight grade to it.) The climb up Case Rd. on the return trip is sure to be a challenge, as it's one of the toughest climbs among all of our local 5Ks. Click on the course map below for a larger image.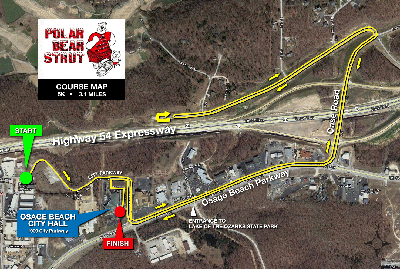 * * * * *
BRIDGE AND DAM HALF MARATHON & 10K (posted January 5th)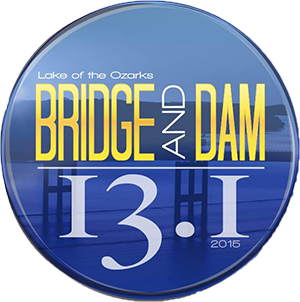 The inaugural Bridge and Dam Half Marathon & 10K is being held at the Lake of the Ozarks on Saturday, March 28th. The race is being organized by the non-profit Missouri Fellowship of Christian Athletes (FCA). Some details, such as packet pickup and starting time, have yet to be announced.
The course also hasn't been announced, but it's expected to start at Bagnell Dam, go up the "Strip", turn south onto Horseshoe Bend Parkway, turn west onto Route MM and continue over the Community (toll) Bridge to Shawnee Bend. The 10K turnaround should be a short distance past the toll booth. The half marathon will probably wind its way through some of the residential areas on the Bend.
Check out the finishers medals and race shirt designs here.
Online registration is open.
* * * * *
RUN FOR THE CHILDREN HALF MARATHON (posted November 3rd)

Registration is open for the Miller County Child Advocacy Council's third annual Run for the Children Half Marathon (Facebook page) in Eldon on Saturday, April 25th. The race will start at 7:00 a.m. in front of the Curves location at 214 S. Mill Street, with race-day registration and packet pick-up open from 6:00 to 6:45 a.m.
The registration fee is $45 if you register by December 31st. After that date, the fee rises to $50 through March 31st, and to $60 from April 1st through April 24th. The fee on race day will be $75.
Click here for a registration form.
The 5K option that was added in 2014 has been dropped for 2015.
* * * * *
LAKE RACE 5K RUN/WALK (posted January 15th)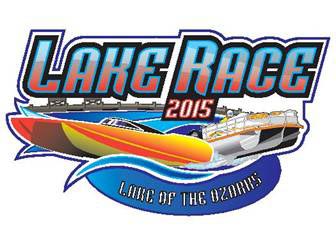 The week-long festivities in advance of this year's Lake Race powerboat race at the Lake of the Ozarks will include a new 5K run/walk on Saturday, May 30th, in Lake Ozark.
The Lake Race 5K Run/Walk will start at 9:00 a.m. at Beavers at the Dam, located close to Bagnell Dam on the Lake Ozark strip. Race-day registration will be open from 7:00 to 8:30 a.m.
If you register by the May 22nd pre-registration deadline, the entry fee is $25 for adults, $20 for students (11 to 17), and $8 for children 10 and under. After that date, those fees rise to $30, $25 and $10, respectively. Be sure to register early, as t-shirts are only guaranteed for those who pre-register; all others will receive a t-shirt while supplies last.
For complete details, click to download a race flyer and registration form.
The course is subject to approval, but is expected to pretty much mirror the Duck Drop and 9/11 Freedom Run 5Ks, although with a different start/finish location.
The race will be professionally timed by Split-Second Timing of Rolla.
* * * * *
HALF MARATHON, MARATHON & LONGER RACES
IN MISSOURI AND VICINITY
2015

Date

Race Name

Distances

Location

Dec 31 & Jan 1
New Year's Double
Cindy, Reagan and Ryan Page: 5Ks on each day
Scott Page: 5K and Half on each day
Marathon, Half Marathon & 5K (each day)
Allen, TX
Jan 10
Runner's Choice 10K/20K
10K & 20K
Columbia, MO

Jan 10

Jan 11

Mississippi Blues Marathon
and
First Light Marathon
Both marathons: Todd Raney
Half & Marathon

Half & Marathon

Jackson, MS

Mobile, AL

Jan 18
Houston Chevron Marathon
Marathon: Jim McDermott, Jim Glickert
Half & Marathon
Houston, TX
Feb 7
Chocolate Rush Half Marathon & 5K
Half Marathon & 5K
Overland Park, KS
Feb 8
Fort Smith Marathon
Marathon: Todd Raney
Half & Marathon
Fort Smith, AR
Feb 14
Psycho Wyco Run Toto Run
50K, 20-mile & 10-mile trail runs
Kansas City, KS
Feb 14(?)
Heart of the Ozarks
Half Marathon & 10K
West Plains, MO
Feb 15
Austin Marathon
Marathon: Denny Gillen
Half & Marathon
Austin, TX
March 1
The Cowtown

50K/Marathon/
Half/10K/5K
Fort Worth, TX
March 1
Little Rock Marathon
Marathon, Half & 10K
Little Rock, AR
March 7(?)
AdventureMax St. Louis Trail Run
Half Marathon & 10K
Innsbrook, MO
Mar 7
Run Hard Columbia
Marathon: Todd Raney
Marathon/Half/5K
Columbia, SC
March 8
Dublin's Pass ShamRox Run
15K & 5K
Columbia, MO
March 14
Lucky 13.1 Half Marathon & 5K
Half Marathon & 5K
Peculiar, MO
March 14
Dublin's Pass ShamRox Run
15K & 5K
Springfield, MO
March 20,21,22
3 Days of Syllamo
Day 1: 50K
Day 2: 50 miles
Day 3: 20K
Blanchard Springs, AR
March 21?
Sedalia Half Marathon
Half Marathon & 5K
Sedalia, MO
March 21
Missouri Race Series
10 miles & 10K
Kansas City, MO
March 22
Relay & Run for 21
Half Marathon & Relay
St. Louis, MO
Mar 28
Bridge & Dam Half Marathon
Half Marathon & 10K
Lake Ozark, MO
March 28
Highline Run for Scouting
Half Marathon & 5K
Springfield, MO
March 28
Forrest Gump Challenge
50 Miles, Marathon & Half
Reeds Spring, MO
March 29
Hogeye Marathon & Relays

Marathon/Half/Relays
Fayetteville, AR
March 29
Tomoka Marathon
Marathon: Todd Raney, Pete Russo
Marathon/Half/5K
Ormond Beach, FL
April 11
Rock the Parkway
Half Marathon & 5K
Kansas City, MO
April 11(?)
Mission Run in the Ozarks
Half Marathon/10K/5K
Mountain Home, AR
April 11
Big Party Half Marathon
Half Marathon & 5K
Springfield, MO
April 12
GO! St. Louis
Marathon/Relay/Half
St. Louis, MO
Apr 18
Missouri Race Series
10 miles & 10K
Jefferson City, MO
Apr 18
Beat the Heat
Marathon: Todd Raney
Marathon/Half/10K/5K
Westminster, CO
April 18
Go Girl Run--Springfield
Half Marathon & 5K
Springfield, MO
April 18
Garmin Marathon
Marathon/Half//5K
Olathe, KS
April 25
Run for the Children
Half Marathon & 5K
Eldon, MO
April 25
Illinois Marathon

Marathon/Half/10K/5K
Champaign-Urbana, IL
April 25
Frisco Railroad Run
50 miles/50K/
Marathon/Half & 8K
Willard, MO
May 2
Trail to a Cure Ride/Run/Walk
Half Marathon, 10K & 5K
Rocheport, MO
May 3
Flying Pig Marathon
Todd Raney
Marathon
Cincinnati, OH
May 9
Running with the Cows
Half Marathon & 5K
Bucyrus, KS
May 16
Missouri Race Series
10 miles & 10K
Columbia, MO
May 16
Joplin Memorial Run
Half Marathon & 5K
Joplin, MO
May 16
Berryman 50-Mile & Marathon
50-Mile & Marathon
Steelville, MO
May 17
Bridge the Gap to Health
Half Marathon, 10K & 5K
Quincy, IL
May 17
Divas Half Marathon & 5K
Half Marathon & 5K
Branson, MO
May 17(?)
RiverTownRun
Half Marathon & 5K
Washington, MO
May 23(?)
Table Rock Half Marathon
Half Marathon & 5K
Branson, MO
May 24
Med City Marathon
Marathon: Todd Raney
Marathon/Half/5K
Rochester, MN
May 30
Go Girl Run--Columbia
Half Marathon & 5K
Columbia, MO
May 30(?)
Striker Life Half Marathon
Half Marathon, 10K & 5K
Whiteman AFB, Knob Noster, MO
May 30(?)
Midwest Active Katy80
80-mile team relay
Katy Trail State Park
June 6
Sunburst Marathon

Marathon/Half/10K/5K
South Bend, IN
June 6
Hospital Hill Run
Half Marathon, 10K & 5K
Kansas City, MO
June 7
Casper Marathon
Marathon: Todd Raney
Half & Marathon
Casper, Wyoming
June 13(?)
Maryville Marathon

Marathon/Half/10K/5K
Maryville, MO
June 13
Marathon to Marathon

Marathon, Relay, Half & 5K
Storm Lake, IA
June 20
Missouri Race Series
10 miles & 10K
St. Louis, MO
June 20(?)
JC Green Giant
13-mile obstacle course
Jefferson City
June 28(?)
Double Road Race
10K+5K
Overland Park, KS
July 4
Midnight Madness 50-Miler
50 miles
Tulsa, OK
July 11
Psycho Psummer Trail Run
50K, 20-mile, 10-mile
Kansas City, KS
Jul 18
Missouri Race Series
10 miles & 10K
Springfield, MO
Aug 15
Missouri Race Series
10 miles & 10K
Joplin, MO
Aug 15
Harder Than Hell Half Marathon
Half Marathon
Nixa, MO
Aug 30
Flatlanders 6/12 Hour Run
6 or 12 hours
Fenton, MO
Sep 5
Run the Burg Half Marathon
5K/10K, Half
Warrensburg
Sep 5
GO! Missouri KT82 Trail Relay
82-mile Katy Trail relay race
St. Louis, MO
Sep 5
North Shore Trail Run
5K/10K, Half
Lawrence, KS
Sep 6
Broadway Bridge Run
5K/10K, Half
Kansas City
Sep 7
Heart of America Marathon

Marathon
Columbia
Sep 12
Azalea Half Marathon
5K/10K, Half
Nixa
Sep 12
Mark Twain 50/100
50 & 100 miles
Mark Twain Forest
Sep 13
Missouri Race Series
10 miles & 10K
O'Fallon, MO
Sep 13
City of Chesterfield Half Marathon
Half
St. Louis, MO
Sep 20
Salt City Run for the Rock
Half
Hutchinson, KS
Sep 20
Konquer the Konza Trail Race
25K
Manhattan, KS
Sep 26
Roots 'n Blues 'n BBQ Festival

10K, Half
Columbia, MO
Sep 27
Go Girl Run--Kansas City
Half Marathon & 5K
Kansas City, MO
Sep 27
Quad Cities Marathon
Marathon/Half/5K
Moline, IL
Sep 27
Berlin Marathon
April Leonard
Marathon
Berlin, Germany
Oct 3
Frog Hill Half Marathon
Half Marathon
Waynesville, MO
Oct 3
Rock Bridge Revenge
7 miles, 25K, 50K
Columbia, MO
Oct 3
Panther Run
5K/10K/15K
Springfield, MO
Oct 3
Arkansas Traveller 100
100 miles
Perryville, AR
Oct 4
5K, Half & Marathon
St. Charles, MO
Oct 4
Saint to Saint Relay & Ultra Run

41 miles
St. Robert, MO
Oct 9-10
Outback in the Ozarks

200-mile team relay
Eureka Springs, AR
Oct 11
Roller Coaster Race
Half Marathon (5K on the day before)
Branson, MO
Oct 11
Prairie Fire Marathon
Marathon/Half/5K
Wichita, KS
Oct 11
Missouri Race Series
10 miles & 10K
Lee's Summit, MO
Oct 11
Great GO! St. Louis Halloween Race
5K/10K, Half
St. Louis
Oct 11
Chicago Marathon
Marathon
Chicago, IL
Oct 11
HITS Running Festival
5K/10K, Half, Full
Oklahoma City, OK
Oct 17
Bear Creek Run
Half Marathon
Columbia, MO
Oct 17
Waddell & Reed Kansas City
5K, Half & Marathon
Kansas City, MO
Oct 17-18
Dogwood Canyon Trail Runs
15K, 25K, 50K
Lampe, MO
Oct 18
Rock 'n' Roll St. Louis
5K, Half & Marathon
St. Louis
Oct 18
Courthouse to Capitol Ultramarathon & Team Relayl
39.3 miles
Columbia, MO
Oct 18
Des Moines Marathon
Marathon/Half/5K
Des Moines, IA
Oct 18
Lake Perry Rocks
5K, Half, 50K
Meriden, KS
Oct 24
Spirit of the Osage
5K, 20K, 50K
Chamois, MO
Oct 24
The Bison 50
50 miles
Topeka, KS
Nov 1
Kansas Half Marathon
Half Marathon & 5K
Lawrence, KS
Nov 1
Bass Pro Shops
Half & Marathon
Springfield
Nov 1
St. Louis Half Marathon
5K, Half
St. Louis
Nov 7
Ozark Trail 100
100 miles
Steelville, MO
Nov 7-8
The Skippo Trail Race
10K/20K/30K
St. Louis, MO
Nov 8
America's First Pro-Life Half Marathon & 5K
Half Marathon & 5K
Jefferson City, MO
Nov 8
Gobbler Grind Marathon

Half & Marathon
Overland Park, KS
Nov 8
Fayetteville Half Marathon
Half & 5K
Fayetteville, AR
Nov 14
Pilgrim Pacer Run
5K/10K, Half, Full
Shawnee, KS
Nov 14
Longview Half Marathon
Half Marathon
Kansas City, MO

Nov 14
Haulin' Bass Trail Runs
8K & 15K
Stockton, MO
Nov 21
AdventureMax Springfield Trail Run
10K, Half
Highlandville, MO

Nov 21
White River Marathon for Kenya
Marathon/Half/5K
Cotter, AR
Nov 22
Route 66 Marathon
Half & Marathon
Tulsa, OK
Dec 5
Alternate Chili Trail Run
10 miles
Kansas City, KS
Dec 5
Cheese & Sauerkraut 10-Miler
10 miles
Columbia
Dec 5
St. Jude Memphis Marathon Weekend
Marathon/Half/5K
Memphis, TN
Dec 13
Half & Half / Double Half
Half & Marathon
Tulsa, OK
Dec 26
Operation Jack KC Run/Walk in the Snow
Half & Marathon
Shawnee, KS
Dec 26
Run for the Ranch
Half & Marathon
Springfield
* * * * *

TRIATHLONS AND DUATHLONS
IN MISSOURI AND VICINITY
2015

Date

Race Name

Distance(s)

Location

April 4
MaxTrax Duathlon
Short course: 1.5-mile run, 7.5-mile bike, 1.5-mile run
Long course: 1.5 mile run, 15-mile bike, 3-mile run
Columbia, MO
May 3
Triathlon: 400-meter pool swim, 14-mile bike, 3-mile run
Duathlon: 1-mile run, 7-mile bike, 1-mile run
Columbia, MO
May 17
Kansas City Triathlon
Sprint: 500-meter swim, 20K bike, 5K run
Olympic: 1.5K swim, 40K bike, 10K run
Kansas City, MO
May 17
Challenge Knoxville Triathlon
LOTO participants:
Denny Gillen
1.2-mile swim, 56-mile bike, 13.1-mile run
Knoxville, TN
May 23
Sedalia Spring into Summer Duathlon
Short course: 2-mile run, 5-mile bike, 0.5-mile run
Long course: 2-mile run, 12-mile bike, 2-mile run
Sedalia, MO
Jun 7
Legend Tri


(New event for 2015)

Sprint: 500-yard swim, 12-mile bike, 5K run
Olympic: 1500-meter swim, 40K bike, 10K run
Legend 70: 1.2-mile swim, 56-mile bike, 13.1-mile run
Legend 100: 2-mile swim, 80-mile bike, 18-mile run

Lawrence, KS
June 20
Tinman Triathlon
Short course: 400-meter swim, 13-mile bike, 3.1-mile run
Long course: 1,000-meter swim, 19-mile bike, 7-mile run
Topeka, KS
June 27
HalfMax, QuarterMax & OctoMax Triathlons
OctoMax: 500-yard swim, 14-mile bike, 3-mile run
QuarterMax: 0.6-mile swim, 28-mile bike, 10K run
HalfMax: 1.2-mile swim, 56-mile bike, 13.1-mile run
Innsbrook, MO
June 28
Summer Roundup Triathlon
Sprint: 500-meter swim, 12.3-mile bike, 5K run
Olympic: 1500-meter swim, 40K bike, 10K run
Jasper, MO
July 11
Big Shark New Town Kids Triathlon
0.62-mile swim, 20-mile bike, 4-mile run
New Town St. Charles, MO
July 12
Big Shark New Town Triathlon
0.62-mile swim, 20-mile bike, 4-mile run
New Town St. Charles, MO
July 12
UCP Shawnee Mission Triathlon
Short course: 500-meter swim, 9-mile bike, 3.2-mile run
Long course: 1,000-meter swim, 18-mile bike, 4.5-mile run
Shawnee, KS
July 12
Lake Freebird Triathlon
Triathlon: 660-meter swim, 14-mile bike, 5K run
Beginners (non-competitive): 300-meter swim, 10-mile bike, 1.3-mile run
Mountain Grove, MO
July 18
Mighty Max Kids Triathlon
Four age-appropriate distances for children up to age 14
Columbia, MO
July 18
Crossroads Triathlon
200-meter swim, 8-mile bike, 2.1-mile run
Cameron, MO
July 19
Show-Me State Games Triathlon & Duathlon
Triathlon: 0.5-mile swim, 15-mile bike, 3-mile run
Duathlon: 15-mile bike, 3-mile run
Columbia, MO
July 19
5150 Kansas Triathlon
Sprint: 500-yard swim, 13-mile bike, 3-mile run
5150: 1.5K swim, 40K bike, 10K run
Lawrence, KS
July 25
WIN for KC Women's Triathlon
500-meter swim, 10-mile bike, 5K run
Smithville, MO
July 25
Concreteman Triathlon
Short course: 500-meter swim, 12.5-mile bike, 2-mile run
Olympic: 1,500-meter swim, 25-mile bike, 10K run
Springfield, MO
July 25
Warsaw Area Kids Triathlon
Four age-appropriate distances for kids up to age 15
Warsaw, MO
July 26
Warsaw Area Sprint Triathlon
500-yard swim, 12-mile bike, 5K run
Warsaw, MO
Aug 2
Stockton Lake Tri Wild-Life Challenge
Short course: 500-meter swim, 10.4-mile bike, 5K run
Long course: 1,000-meter swim, 20.8-mile bike, 10K run
Stockton, MO
Aug 2
Matt Mason Memorial Cowboy-UP! Triathlon
500-meter swim, 11-mile bike, 5K run
Kansas City, MO
Aug 2
Ironman Boulder Triathlon
LOTO participants:
Denny Gillen
2.4-mile swim, 112-mile bike, 26.2-mile run
Boulder, CO
Aug 7
Republic Youth Tigger Tri
Distances to be announced
Republic, MO
Aug 8
Republic Tiger Tri
300-yard swim, 12.2-mile bike, 5K run
Republic, MO
Aug 8
Warrensburg Triathlon
SuperKids Tri: (distances not available)
Trio-Tri: 3-person relay
"98.5 The Bar" Tri: 300-meter swim, 10-mile bike, 5K run
Warrens-
burg, MO
Aug 9
Midwest Meltdown Triathlon & Duathlon
Short course triathlon: 750-meter swim, 10.4-mile bike, 5K run
Long course triathlon: 1.5K swim, 20.8-mile bike, 5.2-mile run
Duathlon: 1-mile run, 10.4-mile bike, 5K run
Paola, KS
Aug 15
Branson Mountain Man Triathlon

Sprint: 400-yard pool swim, 15.5-mile bike, 5K run
Junior: Three age-appropriate distances

Branson, MO
Aug 16
Jackson County Triathlon
Short course: 750-meter swim, 11.75-mile bike, 3-mile run
Long course: 1.5K swim, 40K bike, 5-mile run
Lee's Summit, MO
Aug 22
Nevada Triathlon & Kids Triathlon
Triathlon: 300-yard swim, 12-mile bike, 5K run
Kids triathlon: Three age-appropriate distances
Nevada, MO
Aug 22
Lake St. Louis Triathlon
Short course: 0.25-mile swim, 12.3-mile bike, 2.5-mile run
Long course: 0.93-mile swim, 24-mile bike, 10K run
Lake St. Louis, MO
Aug 22
Memory Maker Triathlon
Sprint: 500-meter swim, 12.4-mile bike, 5K run
Olympic: 1,500-meter swim, 24.8-mile bike, 10K run
Bella Vista, AR
Aug 23
Aloha Triathlon
Triathlon: 400-meter swim, 10-mile bike, 5K run
Quintathlon: 800-meter swim, 17-mile bike, 5K run, 10-mile bike, 2K run

Lee's Summit, MO
Aug 29
Frisco Runaway Triathlon
300-meter pool swim, 12-mile bike, 5K run
Willard, MO
Sep 12
Mid-America Multisport National Championship


(New event for 2015)

Halfmax Championship: 1.2-mile swim, 56-mile bike, 13.1-mile run

Club National Championship
Innsbrook, MO
Sep 13
Silverback Triathlon
Sprint: 500-meter swim, 12-mile bike, 3-mile run
International: 1.5K swim, 40K bike, 10K run
Lawrence, KS
Sep 27
Sedalia Duathlon
Short course: 2-mile run, 8-mile bike, 1-mile run
Long course: 5K run, 30K bike, 5K run
Sedalia, MO
Oct 4
Border Wars Triathlon
1.2-mile swim, 56-mile bike, 13.1-mile run
Alton, IL
Oct 11
Ironman Louisville Triathlon
LOTO participants:
Jim McDermott
2.4-mile swim, 112-mile bike, 26.2-mile run
Louisville, KY
* * * * *

CYCLING EVENTS
IN MISSOURI AND VICINITY
2015

Date

Race/Event Name

Distance(s)

Location

Feb 15
Rocheport Roubaix


(New event for 2015)

Not yet announced
Rocheport, MO
Feb 22
Froze Toes
31 miles (62 for pros)
Columbia, MO
April 6
MoBikeFed Ride with Legislators
Jefferson City, MO
April 25
The Ozark Gravel Road Expedition (OGRE)
150 miles
Lake of the Ozarks
May 16
Vino Fondo
38, 58, 91 and 118 miles
Augusta, MO
May 30
Dirty Kanza 200
200 miles
Emporia, KS
June 6
Tour de Cure
10, 30, 50 and 100 miles
Alton, IL
June 7
Down 'n Dirty
Varies by division
Warsaw, MO
June 13
Cycle for Life
10, 25 and 50 miles
Ozark, MO
June 20
Tour of Kansas City Gran Fondo
15, 25, 47, 73 and 100 miles
Kansas City, MO
June 27
Tour de Lakes
10, 32, 55 and 65 miles
Lee's Summit, MO
July 18
Show-Me State Games Road Cycling Race
19 and 28 miles
Auxvasse, MO
July 25
World Naked Bike Ride--St. Louis
St. Louis, MO
July 26
Show-Me State Games Mountain Bike Race
1, 1-1/2, and 3 hours
Columbia, MO
Aug 2
Tall Oak Challenge
6-hour mountain bike race
Jefferson City, MO
Aug 8
Moonlight Ramble
10.5 and 18.5 miles
St. Louis, MO
Aug 8
MO State Time Trial Championship
20K or 40K, depending on division
Centraiia, MO
Aug 15
Svitak Freedom Ride
10, 25, 40, 67 and 100 miles
Springfield, MO
Aug 22
BikeMO
30, 65 and 90 miles (24 and 50 miles for Katy Trail option)
Rocheport, MO
Sep 5-6
MS 150 Bike Ride
20, 40, 75 & 100 miles
Columbia, MO
Sep 20
Rhett's Run
Columbia, MO
Sep 26
Tour de BBQ
15, 35 and 62 miles
Overland Park, KS
Sep 26-27
Pedal the Cause
15, 25, 37, 50, 75 & 100 miles
St. Louis, MO
Oct 3
Red Shoe Ride
35, 60 and 100 miles
Columbia, MO
Oct 4
Tour de Bass Bike Rides
25, 42, 77 and 102 miles
Springfield, MO
Oct 4
Tour de Wildwood
28 and 45 miles
Wildwood, MO
Oct 10
Cystic Fibrosis Cycle for Life
25, 50 and 100 miles
St. Charles, MO
Oct 10-11
Hartsburg Pumpkin Festival Ride
9.5 miles from Jefferson City on the Katy Trail
* * * * *