Quckie: At last Saturday's Cheese & Sauerkraut 10-Miler in Columbia, the cheese winner, Becky Hennessey, finished just two seconds over her predicted time of 1:50:00. The sauerkraut winner came in more than 13 minutes off of his predicted time. Click for the full results. The six-degree temperature hurt attendance, with only 27 participants at the starting line. That compares to 51 in 2012, when the temperature was a much more reasonable 41°.
* * * * *
WEEKEND EVENTS FOR DECEMBER 14-15
Another tranche (a fancy word I first heard from our company's investment bankers around 1990, but never used) in the Christmas-themed 5Ks is on tap this coming weekend, including "Jingle Bell Runs", "Reindeer Runs", "Ugly Sweater Runs", etc., around the state. If you're suffering withdrawal symptoms from not racing, these links will help you quickly find a cure:

Springfield-area 5Ks
Kansas City-area 5Ks
St. Louis 5Ks
The Fayetteville (Arkansas) Half Marathon & 5K that was scheduled for Sunday has been cancelled. You can read about it here. Note that the 2014 race will be moved up one month, to November 9th.
There are a number of trail runs going on this weekend. On Sunday in Tulsa is the Half & Half / Double Half Marathon. (Details below.)
The Alternate Chili Ten-Mile Trail Run is on Saturday in Kansas City, but the race is sold out.
What's billed as the toughest and most grueling race in the Midwest, the 7.8-mile Pere Marquette Endurance Trail Run in Grafton, Illinois (not far from St. Louis), is scheduled for Saturday. However, it, too, is sold out. In fact, all 700 slots sold out within 6 hours of registration opening on September 1st.
* * * * *
HALF & HALF / DOUBLE HALF MARATHON (posted December 11th)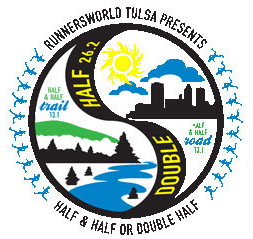 We want to wish local runners Todd Raney, Scott Page and Rob Kucsik good luck at Sunday's Half & Half / Double Half Marathon in Tulsa, Oklahoma. The race offers participants three options--a trail half marathon, a road half marathon, or a full marathon using the trail and road courses for the two half marathons. Online registration ends Wednesday evening, but on-site registration will be available race morning.
The current weather forecast for Sunday calls for clear skies with a morning low of 22 and an afternoon high of 44, and 10 mph winds.
Last year's race had 104 trail half finishers, 121 road half finishers, and 121 full finishers.
* * * * *
GIVE 'EM THE BIRD 5K VIDEO (posted December 10th)
The Give 'Em The Bird 5K video is done, and can be viewed below in a small-screen size, or in a larger size (including a 720p high definition version) on YouTube.


By the way, work on the Bass Pro Shops Marathon video is well underway, and I'm hoping to complete it before Christmas.
* * * * *
ELDON RECREATIONAL TRAIL (posted December 9th)
There's an excellent article in the December edition of the Lake of the Ozarks Business Journal (the article can be viewed online here) about the proposed recreational trail that would connect to Eldon. If the trail ever becomes reality, it would be a great alternative to driving all the way to Jefferson City to ride the Katy Trail. As with every public project, though, funding is and will continue to be the big issue.
* * * * *
STATE SPENDING ON BICYCLING AND PEDESTRIAN PROJECTS (posted December 9th)
A major change in Missouri's transportation funding plans could mean big improvements for biking, hiking and walking in the state. In the past, bicycling and walking received none of MoDOT's budget since the Missouri Constitution didn't permit transportation funds to be spent on biking and walking facilities. (The only monies spent on bicycling and walking facilities came from the federal government.)
Last month, MoDOT proposed a 10-year, $8 billion Long-Range Transportation Plan that will go to the voters in November 2014. The plan embraces bicycling and walking as vital parts of the state's transportation system and, if approved, would allow MoDOT to fund projects to improve bicycling and walking. This is big news for cyclists and trail users.
The Missouri Foundation for Bicycling and Walking, better known as MoBikeFed, is giddy with excitement over the plan. You can read more about the plan and MoBikeFed's reaction here.
* * * * *
ULTRAMAX SPORTS 2014 SCHEDULE OF EVENTS (posted December 8th)
Ultramax Sports, Missouri's largest race organization, has posted their 2014 schedule of events.
Here are some notable changes from the 2013 schedule:
The Go Girl Run series of women-only half marathons and 5Ks has been spread out. In 2013, they were all held in May. For 2014, Springfield will be held in April, Columbia stays in May, and Kansas City moves to September.
The Bridge the Gap to Health Half Marathon, 10K & 5K in Quincy, Illinois, is a long established race, but Ultramax will be handling timing services and the race now appears on their schedule. The exact date hasn't been announced, but the 2013 race was held on Saturday, May 18th.
The St. Louis 5150 Triathlon, which replaced the Quartermax Triathlon when Ultramax was awarded a race in the Ironman 5150 series, is no longer a 5150 race, and reverts back to the Quartermax Triathlon. (The shorter Octomax Triathlon remains unchanged.)
Perhaps the biggest change is the addition/return of the TriSports.com Halfmax National Championship Triathlon, which will be held simultaneously with Quartermax and Octomax on June 28th. This half-iron distance race has had a bumpy history. It debuted at Innsbrook (25 miles west of St. Louis) in 2003 as the Halfmax Triathlon. When half-iron distance triathlons became popular in the mid 2000s, the race was changed to try to establish it as a national championship event, and was moved to Kansas City. It failed to gain the national attention and participation that was hoped for after the move to Kansas City, and was then moved on an annual rotating basis among Boulder City (Nevada), Oklahoma City, and Myrtle Beach (South Carolina). The last year for the race was 2012, when it attracted less than 200 participants and was held in Oklahoma City as part of the Redman Triathlon. The race was considered defunct, as no announcement was ever made regarding a 2013 event. In 2014, the race is being resurrected and returns to its Innsbrook origins, with "national championship" as part of its name.
Oops, missed another notable change. The AdventureMax Team Triathlon has been dropped for 2014. This would have been the race's fifth year. The adventure race that had been held simultaneously with the triathlon was dropped in 2012.
* * * * *
CASTLEWOOD 8-HOUR ADVENTURE RACE (updated December 9th)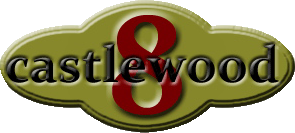 They were registered to compete, but the "Two Hiking Hillbillies" team of Tony and Renee Slack apparently never made it to the starting line at Saturday's (December 7th) Castlewood 8-Hour Adventure Race at Castlewood State Park west of St. Louis. This would have been the second go-round for them, after having finished the race in 2012.
It's just a guess, but the winter storm is probably to blame for their no-show at the race.
* * * * *
ST. JUDE MEMPHIS MARATHON (posted December 2nd)

Sherrie Hamner at the finish line of the Laker 5K Turkey Trot
Friday, December 6th update: The event has been cancelled as a result of the winter storm. Here's the announcement.
We want to wish the best of luck to Sherrie Hamner of Camdenton as she heads to Memphis this weekend to run the St. Jude Memphis Marathon on Saturday (December 7th). This will be Sherrie's third St. Jude Marathon, after having completed it in 2010 and 2012. Like last year, Sherrie will be running with "TEAM LASH BRINK" teammate Shandi Brinkman of West Plains, Missouri.
Sherrie ran the White River Half Marathon in Cotter, Arkansas, on November 23rd and the Laker 5K Turkey Trot on Thanksgiving Day.
* * * * *
HALF MARATHONS & LONGER RACES
HALF MARATHON, MARATHON & LONGER RACES
IN MISSOURI AND VICINITY
SEPTEMBER 1 - DECEMBER 31, 2013

Date

Race Name

Distances

Location

Sep 1
Flatlanders 6/12 Hour Run
6/12 hours
Fenton, MO
Sep 2
Heart of America Marathon

Marathon
Columbia
Sep 2
Run for History Half Marathon
5K, Half
Springfield
Sep 7
Saint to Saint Relay & Ultra Run

41 miles
St. Robert
Sep 7
North Shore Trail Run
5K/10K, Half
Lawrence, KS
Sep 8
Broadway Bridge Run
5K/10K, Half
Kansas City
Sep 14
Azalea Half Marathon
5K/10K, Half
Nixa
Sep 14
Mark Twain 50/100
50 & 100 miles
Mark Twain Forest
Sep 21
Roots 'n Blues 'n BBQ Festival

10K, Half
Columbia
Sep 22
Salt City Run for the Rock
Half
Hutchinson, KS
Sep 28
Rock Bridge Revenge
7 miles, 25K
Columbia
Sep 28
Mercy Day Run
5K, Half
Fort Scott, KS
Sep 29
BAJA Half Marathon & 5K
5K, Half
Festus, MO
Sep 29
Konquer the Konza Trail Race
Race is sold out
Manhattan, KS
Oct 5
Panther Run
5K/10K/15K
Springfield
Oct 5
Run the Burg Half Marathon
5K/10K, Half
Warrensburg
Oct 5
Arkansas Traveller 100
100 miles
Perryville, AR
Oct 6
MO' Cowbell Marathon

5K, Half & Marathon
St. Charles
Oct 13
Great GO! St. Louis Halloween Race
5K/10K, Half
St. Louis
Oct 13
Mother Road Marathon
5K, Half & Marathon
Commerce, OK
Oct 19
Waddell & Reed Kansas City
5K, Half & Marathon
Kansas City
Oct 19
Lake Perry Rocks
5K, Half, 50K
Meriden, KS
Oct 19
HITS Running Festival
5K/10K, Half, Full
Oklahoma City, OK
Oct 20
Spirit of the Osage
20K, 50K
Chamois, MO
Oct 20
Dogwood Canyon Trail Runs
Race is sold out
Lampe, MO
Oct 27
Rock 'n' Roll St. Louis

Half & Marathon
St. Louis
Oct 27
The Bison 50
50 miles
Topeka, KS
Nov 2
Ozark Trail 100
100 miles
Steelville, MO
Nov 3
Bass Pro Shops

Half & Marathon
Springfield
Nov 3
St. Louis Half Marathon
5K, Half
St. Louis
Nov 9
KC15K
7K/15K
Kansas City
Nov 9
Pilgrim Pacer Run
5K/10K, Half, Full
Shawnee, KS
Nov 23
AdventureMax Springfield Trail Run

10K, Half
Highlandville, MO

Nov 23
White River Marathon for Kenya
Marathon
Cotter, AR
Nov 24
Route 66 Marathon
Half & Marathon
Tulsa, OK
Nov 24
Gobbler Grind Marathon

Half & Marathon
Overland Park, KS
Dec 7
Cheese & Sauerkraut 10-Miler
10 miles
Columbia
Dec 7
St. Jude Memphis Marathon Weekend
Marathon/Half/5K
Memphis, TN
Dec 15
Half & Half / Double Half
Marathon--Todd Raney & Scott Page; Rob Kucsik (probable)
Half & Marathon
Tulsa, OK
Dec 15
Fayetteville Half Marathon

CANCELLED

Half & 5K
Fayetteville, AR
Dec 28
Operation Jack KC Run/Walk in the Snow
Half & Marathon
Shawnee Mission, KS
Dec 28
Run for the Ranch
Marathon--Todd Raney, Stacy Turner

Half & Marathon
Springfield
HALF MARATHON, MARATHON & LONGER RACES
IN MISSOURI AND VICINITY
JANUARY 1 - AUGUST 31, 2014

Date

Race Name

Distances

Location

Jan 25
Winter Night Trail Marathon
Marathon--Todd Raney
Marathon/Half/Qtr
Indianapolis, IN
Feb 8
Psycho Wyco Run/Toto Run
50K, 20-mile& 10-mile trail runs
Kansas City, KS
Feb ??
Catch the Katy 30K
30K
Clinton, MO
Feb 15
Heart of the Ozarks
Half Marathon & 10K
West Plains, MO
Feb 23
The Cowtown
Todd Raney (50K); Pete Russo
50K/Marathon/
Half/10K/5K
Fort Worth, TX
March 1
AdventureMax St. Louis Trail Run
Half Marathon & 10K
Innsbrook, MO
March 2
Little Rock Marathon
Marathon, Half & 10K
Little Rock, AR
March 15
Lucky 13.1 Half Marathon & 5K
Half Marathon & 5K
Peculiar, MO
March 15
Dublin's Pass ShamRox Run
15K & 5K
Springfield, MO
March ??
Sedalia Half Marathon
Half Marathon & 5K
Sedalia, MO
March ??
Highline Run for Scouting
Half Marathon & 5K
Springfield, MO
March ??
Forrest Gump Challenge
50 Miles, Marathon & Half
Reeds Spring, MO
April 6
GO! St. Louis
Marathon/Relay/Half
St. Louis, MO
April 12
Rock the Parkway
Half Marathon & 5K
Kansas City, MO
April 19
Go Girl Run--Springfield
Half Marathon & 5K
Springfield, MO
April 26
Run for the Children
Half Marathon & 5K
Eldon, MO
April 26
Garmin Marathon
Marathon/Half//5K
Olathe, KS
April ??
Kansas Half Marathon
Half Marathon & 5K
Lawrence, KS
April ??
Camp Barnabas Half
Half Marathon
Springfield, MO
April 26
Frisco Railroad Run
50 miles/50K/
Marathon/Half & 8K
Willard, MO
May 2-3
Outback in the Ozarks
Lake-area team(s) being formed
200-mile team relay
Eureka Springs, AR
May 3
Trail to a Cure Ride/Run/Walk
Half Marathon, 10K & 5K
Rocheport, MO
May 4
Divas Half Marathon & 5K
Half Marathon & 5K
Branson, MO
May 10
Joplin Memorial Run
Half Marathon & 5K
Joplin, MO
May 10
Running with the Cows
Half Marathon & 5K
Bucyrus, KS
May ??
Bridge the Gap to Health
Half Marathon, 10K & 5K
Quincy, IL
May 24
Go Girl Run--Columbia
Half Marathon & 5K
Columbia, MO
May ??
Table Rock Half Marathon
Half Marathon & 5K
Branson, MO
June 7
Hospital Hill Run
Half Marathon, 10K & 5K
Kansas City, MO
June ??
Maryville Marathon
Marathon/Half/10K/5K
Maryville, MO
June ??
JC Green Giant
13 miles
Jefferson City, MO
June 29
Double Road Race
10K+5K
Overland Park, KS
July 12
Psycho Psummer Trail Run
50K, 20-mile, 10-mile
Kansas City, KS
If you're planning to do an event and want to let others know, e-mail me and I'll add your name to the list of participants.
* * * * *
____________________________________
Looking for older postings? Check here:
____________________________________
HAVE SOMETHING TO POST?
Doing a race or event that others might also be interested in doing? Planning to do a training run/ride/swim/paddle and wanting to invite others along? Let me know and I'll post it.