The madness begins January 1, 2018: Todd Raney has purchased a home in Kansas City, and will soon become only a part-time Lake resident. We've agreed that, starting January 1st, Todd--who's led the "most miles raced" standings in the Lake Area Scoreboard every year since the scoreboard debuted in 2013--won't be included in the rankings.
This will most assuredly create a free-for-all among certain Lake-area men (we all know who they are), and lead to all sorts of crazy behavior as they compete for the top spot. (Actually, the most-miles-raced ranking was never meant to be a competition. It was just a way to gauge who was doing how much racing, but try telling that to a bunch of Type-A runners.)
So, come January 1st, grab yourself a bag of popcorn and watch the insanity unfold.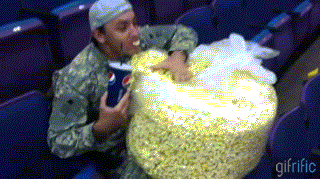 * * * * *
THE RUNNING RECESSION: A MID-YEAR UPDATE (posted June 23rd)
Regular readers know that I've been chronicling the "recession" in running on this webpage over the past few years.
The data from the first half of 2017 shows that the level of interest in running continues to drop. Unless there's a sudden and strong reversal in the second half of this year (I wouldn't bet on it), 2017 is likely to be the third consecutive year in which the level of interest in running has fallen.
To measure interest in running, I keep track of the number of finishers at nearly every full and/or half marathon in the state of Missouri. I don't track the number of 5K finishers because of the very large number of those events statewide, and because many of these finishers are casual walkers--not runners. (Even without collecting the data, I'm pretty confident in saying that the number of 5K finishers has declined over the last several years, too.)
For some historical perspective, here are the number of full and half marathon finishers at Missouri races, by year, since 2012. The total peaked at 56,234 in 2014, followed by declines in both 2015 and 2016. Interestingly, there were fewer finishers in 2016 than in 2012, despite a doubling in the number of events.
NUMBER OF FULL AND HALF MARATHON FINISHERS
AT MISSOURI RACES

% change from previous year

8%
In the first half of 2017, there were 21,438 finishers, down 11% from 24,177 in the first six months of 2016, as shown in the table below (click on table for a .pdf version):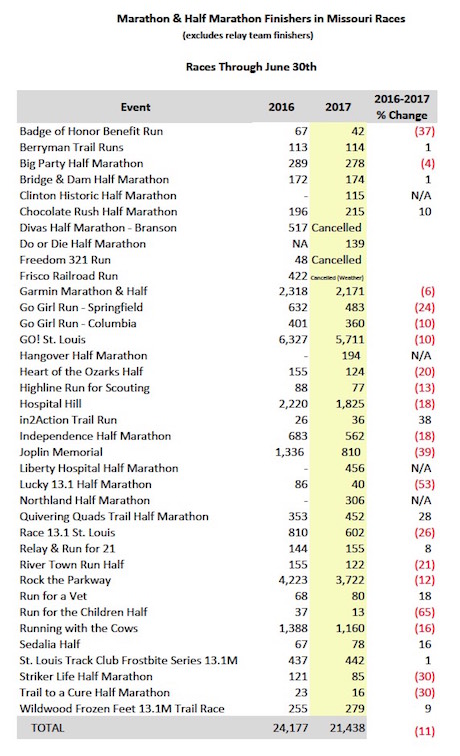 The decline was broad-based, with nearly two-thirds of the events experiencing declines in 2017. Every one of the eight largest events in the state, which represent about 75% of the total finishers, had declines:
NUMBER OF FULL AND HALF MARATHON FINISHERS
AT THE EIGHT LARGEST RACES
Race

2016

2017

% change

GO! St. Louis

6,327

5,711

10%

Rock the Parkway

4,223

3,722

12%

Garmin

2,318

2,171

6%

Hospital Hill

2,220

1,825

18%

Running with the Cows

1,388

1,160

16%

Joplin Memorial

1,336

810

39%

Race 13.1 St. Louis

810

602

26%

Independence Half Marathon

683

562

18%

Total

19,305

16,563

14%
In 2016, the races in the first six months of the year accounted for about half of the year's total finishers. If that holds true for 2017, the total number of finishers for all of 2017 should be around 42,000. That would represent a decline of 25% since the running recession started three years ago.
At the start of 2017, I thought that perhaps this would be the year that interest in running would either stabilize or increase. Halfway through the year, it looks like 2017 will be even worse than the previous two.
You really don't have to look at the above numbers to know that running has lost its popularity. If you've attended many of our Lake-area 5Ks over the last few years, you've seen the big decline in the number of participants.
* * * * *
WEEKEND EVENTS FOR JUNE 24-25
Well, here we are--the last race weekend of the first half of the year. Gosh, the year has been flying by at warp speed.
We have a brand-new event in the Lake area this weekend, and it features . . . doughnuts! The Eldon Police Officers Association is holding their Doughnut 5K Run/Walk on Saturday. It starts at 7:30 a.m. at the Public Safety Bldg. on S. Oak St. Race-day registration runs from 6:45 a.m. to 7:15 a.m. Complete details about the event can be found further down this column under "Upcoming Events".
Another Lake-area 5K this weekend has just come to my attention:
The Relay for Life 5K, benefiting the American Cancer Society, will take place on Saturday at 8:00 a.m. at Camdenton High School.
Elsewhere:
Jefferson City:
TJ Clime Cupcake 5K Run/Walk, Saturday
Rolla:
A Soldier's Son's Run 5K, Saturday
Springfield & vicinity:
Neosho:
Neosho Sprint Triathlon, Saturday
Ozark:
Sertoma Duck Waddle 5K, Saturday
Joplin:
Run for Our Heroes 5K, Saturday
Kansas City and vicinity:
Tour de Lakes (bike rides of varying distances), Saturday
PD Donut Dash, Saturday
ScoutStrong Challenge 5K/10K, Parkville, Saturday
CASA SuperHero 5K Run, Sunday
KC Running Company calendar
St. Louis and vicinity:

Macklind Mile (one-mile road race; no turns; downhill), Saturday
Big River Running calendar
Fleet Feet Sports St. Louis calendar
Be sure to check out the Lake of the Ozarks Runners Facebook page to see what they'll be doing this weekend.
* * * * *

SHOW-ME STATE SENIOR GAMES (posted June 20th)

Ed Doney was our lone Lake-area competitor at the Show-Me State Senior Games in Columbia over the weekend.
In Saturday's 5K, Ed finished in 27:35, placing second (of three) in the men's 65-69 age group. The winner of the age group was the phenomenal John Howland of Jefferson City, who crossed the line in 22:00. (Last year, at the age of 67, John was the overall winner--over 34 other competitors--of the Missouri Race Series 10-mile race in Columbia.)
On Sunday, Ed won his age group by default in the 10K, finishing in 1:00:21.
Full race results can be found here.
The Senior Games are open to all individuals 50 years old or older. Almost all of the participants are serious age-group competitors. The oldest runner was in the 85-89 age group, and he finished the 5K in 35:23.
* * * * *
RUN WITH THE HORSES 5K/10K, HIDDEN HILLS 10K CHALLENGE & KIDS' 1-MILE RUN/WALK (posted June 20th)

A morning thunderstorm moved out just in time--but left behind oppressive humidity--on Saturday for the thirty-three runners and walkers participating in the Run with the Horses benefiting the Missouri Forget-Me-Not Horse Rescue & Sanctuary.
In the Hidden Hills 10K Challenge, half of which featured steep hills on (mostly) gravel roads, Chris Boyle ran the fastest 10K of the year among Lake-area men, finishing in 46:00. Katie Roberts won the women's race by default, finishing alongside husband Stacy Roberts in about 1:05:00.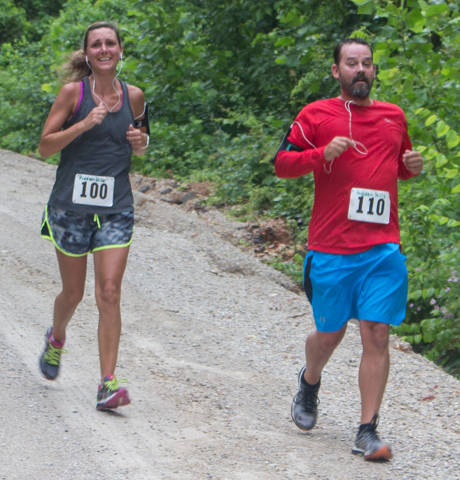 Katie Roberts' pained expression says it all about the difficulty of the hills on the Hidden Hills Challenge. She's pictured here running alongside husband Stacy Roberts.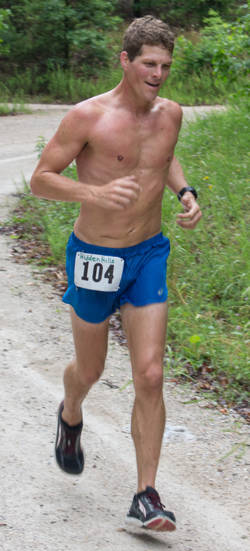 Chris Boyle (left) had a great run, looking fresh even after cresting the toughest hill on the course. Gary Braman, on the sidelines nursing a sore knee, manned the aid station located at the summit.
The 5K winners were both visiting the Lake from Quincy, Illinois. Brad Weisen won the men's race by default with an impressive 18:45 finish time. Cierra Hiland was the top female, finishing in 21:36. This was Cierra's third victory this year--she won the women's 5K at Bridge & Dam in 22:52, and at the Lake Race 5K in 20:51.
Here are the complete race results:
RUN WITH THE HORSES 5K/10K/1-MILE & HIDDEN HILLS 10K
LINN CREEK, MISSOURI
JUNE 17, 2017
RESULTS

Name

Bib #

Age

Finish Time

HIDDEN HILLS 10K:
Chris Boyle

104

38

46:00

Mike Toth

102

54

1:01:40

Katie Roberts

100

40

1:05:??

Stacy Roberts

110

43

1:05:??

Jim Glickert

103

62

1:20:57

10K:
Kathleen Robbins

138

49

1:36:40

Julie Schell

140

51

1:36:40

Kimberly Gericke

139

53

1:46:17

5K:
Brad Weisen

134

43

18:45

Cierra Hiland

113

30

21:36

Kris Williams

149

55

26:38

Jen Wiethop

136

34

34:24

Caroline Davinroy

130

68

34:25

Mary Larsen

154

48

36:07

Bhanumathy Krishnan

115

58

40:49

Linda West

141

69

44:07

Linda Berberich

122

62

45:14

Suzanne Alexander

153

64

46:44

Connie Long

147

62

52:38

Debbie Everman

148

59

53:12

Alexis Rosack

146

55:53

Olivia Hilton

145

55:55

Kathleen Gale

144

67

56:15

Maryellen Phillips

143

71

56:15

Priscilla Stuart

142

67

56:16

Jamie Cox

150

18

58:54

Kim Cox

151

49

58:54

Sherri Miller

155

41

58:54

Roxie Nieroda

153

64

59:13

1-MILE:
Sam Maschino

114

6

16:45

Andy Eidsen

137

7

23:19

Ty Wiethop

135

9

31:15

Michael Maschino

126

8

34:21
Below is just one of many more photos from the race that you can view here.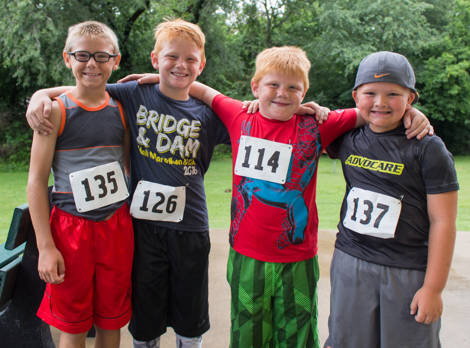 The kids' 1-mIle race competitors (from left): Ty Wiethop,
Michael Maschino, Sam Maschino and Andy Eidsen.
* * * * *
ONE ON THE RUN (posted June 18th)
Scott and Jayna Gray played host this weekend to Helene Neville, who's running 4,000 miles across Missouri and eleven other states over the span of five months this year to complete her years-long quest of running across every state in the continental U.S. She crossed into Missouri at St. Joseph on Tuesday (June 13th), heading east.
You can read more about Helene and her inspiring story at her webpage and Facebook page.
* * * * *
GRANDMA'S MARATHON (posted June 17th)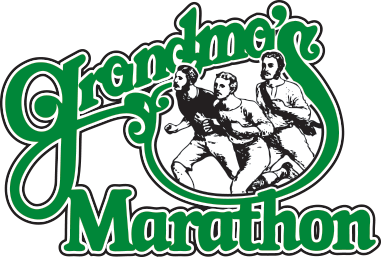 Congratulations to Todd Raney for scoring his tenth consecutive sub 4-hour marathon in ten different states so far this year. On Saturday, Todd completed Grandma's Marathon in Duluth, Minnesota in 3:53:44, placing 105th (of 344) in the 45-49 age group.
Minnesota marks the 37th state in which Todd has competed a sub 4-hour marathon. His state total, including states with finishes over four hours, still stands at 49.
* * * * *

2017 Archives
2016 Archives
2015 Archives
2014 Archives
2013 Archives
2012 Archives
2011 Archives
2010 Archives
2009 Archives
* * * * *

ELDON POLICE OFFICERS ASSOCIATION'S DOUGHNUT 5K RUN/WALK (posted April 22nd)

A newly-formed nonprofit organization, the Eldon Police Officers Association (Facebook page), will be holding their first annual Doughnut 5K Run/Walk (Facebook page) on Saturday, June 24th. Proceeds from the event will benefit Camdenton-based Concerns of Police Survivors (C.O.P.S.) and the Association's "Shop with a Cop" program to help provide Christmas gifts for children of families in need.
The race will start at 7:30 a.m. at the City of Eldon's Public Safety Building on S. Oak Street (map). Race-day registration will be available from 6:45 to 7:15 a.m.
The entry fee is $15 if you register by the pre-registration deadline of June 15th. After that date, the entry fee rises to $25. Only those who pre-register by June 15th will be guaranteed a t-shirt in their size on race day.
Click to download a flyer and registration form for more information. The registration form can be mailed in or dropped off at the Eldon Police Department.
So how will the doughnut run work? Before the race, you'll be given a doughnut, and your goal is to reach the finish the race with a whole doughnut. What's hard about that, you ask? Well, along the course, off-duty police officers and volunteers will be attempting to steal your doughnut. Why keep it away from them? Because you're only going to get a medal if you finish with a whole doughnut. (First-place runners in each age group will also receive plaques.)
* * * * *
19th ANNUAL ELDON INDEPENDENCE DAY 5K RUN/WALK (posted June 9th)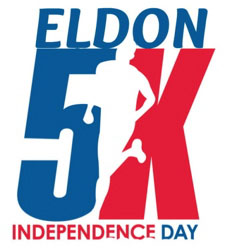 Registration is open for Eldon's Independence Day 5K Run/Walk. The race will be held on Saturday, July 1st, at the swimming pool on N. Franklin Street near the air park. The run/walk starts at 7:30 a.m., with race-day registration opening at 7:00 a.m.
The entry fee is $15 if you register by the pre-registration deadline of June 23rd. After that date, the fee is $20. T-shirts are only guaranteed for those who pre-register; all others receive t-shirts while supplies last.
Registration forms are available at the Parks & Recreation Department's Facebook page, or just click here.
* * * * *
CONCERNS OF POLICE SURVIVORS BLUE RIBBON 5K RUN/WALK (posted April 17th)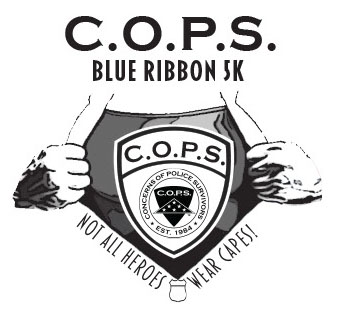 The fourth annual Blue Ribbon 5K Run/Walk benefiting Camdenton-based Concerns of Police Survivors (C.O.P.S), will be held on Saturday, July 15th, at the Linn Creek City Park (map). The run/walk will start at 9:00 a.m., with race-day registration opening at 7:00 a.m.
Once again, the theme for the event is "Not all heroes wear capes!" Come dressed as your favorite superhero, or come dressed all in blue. Prizes will be given out for the best and "blue-est" costumes.
The entry fee for those who register by the pre-registration deadline of June 15th is $20 for individuals and $15 per person for families of three or more. On race day, the entry fees for both individuals and family members are $5 higher.
A "Virtual Runner" option is available for those who live elsewhere and can't travel to the event. The entry fee is $25. Virtual Runners will get a t-shirt.
T-shirts can only be guaranteed to those who pre-register.
Online registration is available, or you can download a mail-in registration form here.
* * * * *
TUSCUMBIA FFA FUN 5K (posted May 29th)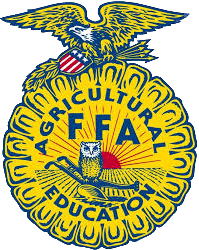 Tuscumbia High School's Future Farmers of America chapter is holding a 5K on Saturday, July 22nd, at the Tuscumbia City Park. Proceeds from the event will help send students to a national FFA conference in Washington, D.C. this summer.
The run/walk starts at 9:00 a.m., with registration open from 8:00 to 8:45 a.m.
The registration fee is $20 if you register before July 1st. After that date, the fee rises to $25. The fee for kids ages 12 and under is $10. T-shirts will only be guaranteed for those who pre-register and pay by July 1st.
Click for a flyer/registration form (.jpg or .pdf).
* * * * *
THE RUNNING OF THE KNIGHTS 5K/1-MILE (posted May 11th)

The King's Academy preschool and elementary school will be holding its first Running of the Knights 5K Run/Walk and 1-Mile Fun Run on Sunday, September 10th, in Lake Ozark. The 1-mile fun run starts at 2:00 p.m., and the 5K at 2:30 p.m., at Christ the King Church at 1700 Bagnell Dam Blvd. Race-day registration opens at 12:30 p.m.
The entry fee for the timed 5K is $30. Register as a team of four or more, and the entry fee is $25 for each team member.
The untimed, 1-mile fun run entry fee is $15.
The registration deadline for guaranteed t-shirts is August 18th.
For more information or to register online, click here.
* * * * *
WALK TO END ALZHEIMER'S (posted May 31st)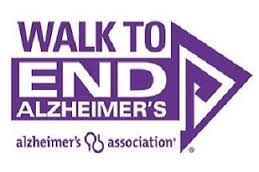 The Lake of the Ozarks' participation in the Alzheimer's Association's national Walk to End Alzheimer's will take place on Saturday, October 7th, at the Camdenton City Park.
Registration on the day of the event will begin at 8:00 a.m., with a ceremony and the walk beginning at 9:00 a.m.
To register, volunteer or donate, please click here.
* * * * *

HALF MARATHON, MARATHON & LONGER RUNNING RACES
IN MISSOURI AND VICINITY
2017

Date

Race Name

Distances

Location

NOTE: HIGHLIGHTED DATES INDICATE THAT THE EVENT'S 2017 DATE HAS NOT YET BEEN ANNOUNCED AND/OR CONFIRMED
Dec 10, 2016
Hoover Dam Marathon
Todd Raney
Marathon/Half/10K/5K
Lake Mead National Park, NV
Dec 11, 2016
Half & Half / Double Half
Half & Marathon
Tulsa, OK
Dec 31, 2016
Run for the Ranch
Marathon, Marathon Relay, Half and 6-Hour Run
Springfield, MO
Dec 31- Jan 1
The Pistol Ultra Run
50K relay, 50K, 50 miles, 100K, 100 miles
Alcoa, TN
Jan 1
Hangover Half Marathon & 5K
Half Marathon & 5K
Leawood, KS
Jan 14
Runner's Choice 5K/10K


(cancelled)

5K & 10K
Columbia, MO
Jan 14
Cabin Reliever 20K &
Resolution 5K

(Postponed until Jan. 21)

20K & 5K
Rogersville, MO
Jan 15
Chevron Houston Marathon
Marathon & Half
Houston, TX
Jan 15
Rock 'n' Roll Arizona
Marathon: Todd Raney
Marathon & Half
Phoenix, AZ
Jan 21
Wildwood Frozen Feet 13.1M Trail Race
Half Marathon
Wildwood, MO
Jan 21
David's Trail Endurance Run
25K: Gary Braman, Chris Boyle, John Shelby
50K, 25K & 7K

Mountain Home, AR
Jan 28
St. Louis Track Club Frostbite Series
Half Marathon & 4-mile
St. Louis, MO
Feb 4
Chocolate Rush Half Marathon & 5K
Half Marathon & 5K
Olathe, KS
Feb 5
Surf City MarathonMarathon: Todd Raney
Marathon & Half
Huntington Beach, CA
Feb 11
Run with the Wind 25K
25K; solo and 3-team relay
Sarcoxie, MO
Feb 11
Heart of the Ozarks
Half Marathon, relay & 10K
West Plains, MO
Feb 11
Mississippi River Marathon
Todd Raney
Marathon & Half
Lake Village, AR to Greenville, MS
Feb 12
Fort Smith Marathon
Marathon/Half/relays
Fort Smith, AR
Feb 19
Austin Marathon
Marathon & Half
Austin, TX
Feb 19
Fort Lauderdale A1A Marathon
Todd Raney
Marathon & Half
Fort Lauderdale, FL
Feb 25
Clinton Historic Half Marathon & 5K


(inaugural race)

Half Marathon & 5K
Clinton, MO
Feb 25
Psycho Wyco Run Toto Run
50K, 20-mile & 10-mile trail runs
Kansas City, KS
March 4
Myrtle Beach Marathon
Todd Raney
Marathon & Half
Myrtle Beach, SC
March 4
Liberty Hospital Half


(inaugural race)

Half Marathon & 5K
Kansas City, MO
March 5
Little Rock Marathon
Marathon, Half & 10K
Little Rock, AR
March 11
Lucky 13.1 Half Marathon & 5K
Half Marathon & 5K
Peculiar, MO
March 11
Dublin's Pass ShamRox Run
15K & 5K
Springfield, MO
March 12
ShamRox Columbia
15K & 5K
Rocheport, MO
March 17,18,19
3 Days of Syllamo
Day 1: 50K
Day 2: 50 miles
Day 3: 20K
Blanchard Springs, AR
March 18
Sedalia Half Marathon
(Facebook page)
Half Marathon & 5K
Sedalia, MO
March 19
Relay & Run for 21K
Half Marathon, 7K & Relay
St. Louis, MO
March 25
Bridge & Dam Half Marathon & 5K/10K
Half Marathon/10K/5K
Lake Ozark, MO
March 25
Highline Run for Scouting
Half Marathon & 5K
Springfield, MO
March 26
Queens Marathon
Todd Raney
Marathon
New York, NY
April 1
Do or Die Half Marathon & 5K
Half Marathon & 5K
Rocheport to Boonville, MO
April 1
Badge of Honor Run
Half Marathon/10K/5K
Poplar Bluff, MO
April 1
Big Party Half Marathon
Half Marathon & 5K
Springfield, MO
April 1
Mission Run in the Ozarks
Marathon/Half/5K
Mountain Home, AR
April 2
Brew to Brew
43.5 miles--solo and relays
Kansas City to Lawrence, KS
April 8
Rock the Parkway
Half Marathon & 5K
Kansas City, MO
April 8
Hogeye Marathon & Relays

Marathon/Half/Relays
Fayetteville, AR
April 9
GO! St. Louis
Marathon: Gary Braman
Marathon/Relay/Half
St. Louis, MO
April 9
Vernonia Marathon
Todd Raney
Marathon & Half
Banks, OR
April 15
Double Chubb Trail Race
50K & 25K
Eureka, MO
April 15
Go Girl Run--Springfield
Half Marathon & 5K
Springfield, MO
April 22
Run for the Children Half Marathon & 10K
Half Marathon & 10K
Eldon, MO
April 22
Garmin Marathon
Marathon/Half//10K
Olathe, KS
April 22
Illinois Marathon

Marathon/Half/10K/5K
Champaign-Urbana, IL
April 23
Northland Half Marathon & 5K
Half Marathon & 5K
Riverside, MO (near KC)
April 23
Glass City Marathon
Todd Raney
Marathon & Half
Toledo, OH
April 29
Frisco Railroad Run
50 miles/50K/
Marathon/Half/10-mile & 8K
Willard, MO
April 29
Run for Their Lives


(cancelled)

Half Marathon & 5K
Owensville, MO
April 30
Oklahoma City Memorial Marathon
Marathon/Relay/Half/5K
Oklahoma City, OK
May 6
Trail to a Cure Ride/Run/Walk (final race--TTAC ceasing operations)
Half Marathon, 10K & 5K
Rocheport, MO
May 7
Half Marathon & 5K
Independence, MO
May 13
Running with the Cows
Half Marathon & 5K
Bucyrus, KS
May 13
RiverTownRun
Half Marathon & 5K
Washington, MO
May 20

Striker Life Half Marathon
Half Marathon, 10K & 5K
Whiteman AFB, Knob Noster, MO
May 20
Joplin Memorial Run
Marathon/Half & 5K

Joplin, MO
May 20
Berryman 50-Mile & Marathon
50-mile course sweepers: Chris Boyle, Gary Braman & John Shelby
50-Mile & Marathon
Steelville, MO
May 20
Great American Bacon Race
Half Marathon & 5K
Branson, MO
May 20
Fargo Marathon
Todd Raney
Marathon & Half
Fargo, ND
May 21
Race 13.1 St. Louis
Half Marathon & 5K
St. Charles, MO
June 3
Go Girl Run--Columbia
Half Marathon & 5K
Columbia, MO
June 3
GO! Missouri KT82 Trail Relay
82-mile Katy Trail relay race
St. Louis, MO
June 3
Half Marathon, 10K & 5K
Kansas City, MO
June 10
Run for a Vet
Half Marathon & 5K
Branson, MO
June 10
In2Action Trail Run
Half Marathon & 5K
Columbia, MO
June 17
Grandma's Marathon
Todd Raney
Marathon & Half
Duluth, MN
July 9
Mad Marathon
Todd Raney
Marathon & Half
Waitsfield, VT
July 22
Psycho Psummer Trail Run
50K, 20-mile, 10-mile
Kansas City, KS
Aug 19
Harder Than Hell Half Marathon
Half Marathon
Nixa, MO
Sep 2
Forrest Gump Challenge
50K, Marathon, Half & 5K
Reeds Spring, MO
Sep 3
Flatlanders 6/12 Hour Run
6 or 12 hours
Fenton, MO
Sep 5
Run 2 Remember


(cancelled?)

Half Marathon, 10K & 5K
Willard, MO
Sep 4
Heart of America Marathon

Marathon
Columbia
Sep 10
Azalea Half Marathon
5K/10K, Half
Nixa, MO
Sep 16-17
Mark Twain 50/100
Chris Boyle (50-mile)
50 & 100 miles
Mark Twain Forest
Sep 16
North Shore Trail Run
5K/10K, Half
Lawrence, KS
Sep 17
Go Girl Run--Kansas City
Half Marathon & 5K
Kansas City, MO
Sep 24
Kyleigh Phillips Memorial 5K & Half Marathon
Half Marathon & 5K
Osage Beach, MO
Sep 23
Pub 2 Pub Half Marathon
Half Marathon
Rolla, MO
Sep 24
Pony Express Run
Half Marathon & 5K
St. Joseph, MO
Sep 24
Broadway Bridge Run
5K/10K, Half
Kansas City, MO
Sep 24
Quad Cities Marathon
Marathon/Half/5K
Moline, IL
Sep 30
Roots 'n Blues 'n BBQ Festival

10K, Half
Columbia, MO
Sep 30
Run the Burg
5K/10K, Half
Warrensburg, MO
Oct 1
Mother Road Marathon
Marathon/Half/5K
Joplin, MO
Oct 1
5K, Half & Marathon
St. Charles, MO
Oct 2
Haulin' Bass Trail Runs
8K & 15K
Stockton, MO
Oct 1
Double Road Race
10K+5K
Overland Park, KS
Oct 1
Grand Country Half Marathon & 5K
Half Marathon & 5K
Branson, MO
Oct 7
Frog Hill Half Marathon & 5K/10K
Half Marathon & 10K
(5K on Friday evening)
Waynesville, MO
Oct 7
Panther Run
5K/10K/15K
Springfield, MO
Oct 7
Rock Bridge Revenge
7 miles, 25K, 50K
Columbia, MO
Oct 8
Chicago Marathon
Marathon
Chicago, IL
Oct 14
Bear Creek Run
Half Marathon
Columbia, MO
Oct 14
AdventureMax Springfield Trail Run
10K, Half
Highlandville, MO

Oct 15
Rock 'n' Roll St. Louis
5K (on Sat.), 10K & Half Marathon
St. Louis
Oct 15
Des Moines Marathon
Marathon/Half/5K
Des Moines, IA
Oct 21
Kansas City Marathon
5K, 10K, Half & Marathon
Kansas City, MO
Oct 22
Go Girl Run - Memphis
Half Marathon & 5K
Memphis, TN
Oct 22
Great GO! St. Louis Halloween Race
5K/10K, Half
St. Louis, MO
Oct 27-28
Outback in the Ozarks

200-mile team relay
Eureka Springs, AR
Oct 28
FLATS Trail Half Marathon
Half Marathon
Kirksville, MO
Nov 4
Ozark Trail 100
100 miles
Steelville, MO
Nov 4-5
The Skippo Trail Race
10K/20K/30K
St. Louis, MO
Nov 5
Kansas Half Marathon
Half Marathon & 5K
Lawrence, KS
Nov 5
Bass Pro Shops
5K, Half & Marathon
Springfield, MO
Nov 5
St. Louis Half Marathon
5K, Half
St. Louis
Nov 5
New York City Marathon
Jesse Shields
Marathon
New York, NY
Nov 11
Team RWB Veterans Day Half Marathon & 4 Miler

(2016 cancelled; will retry in spring 2017)

Half Marathon & 4-Miler
St. James, MO
Nov 11
Longview Half Marathon & 5K
Half Marathon & 5K
Kansas City, MO

Nov 11
Phoenix Summit Challenge
10/15/17/25-mile trail hikes
Phoenix, AZ
Nov 11
Fayetteville Half Marathon
Half & 5K
Fayetteville, AR
Nov 11
Dogwood Canyon Trail Runs
15K
Lampe, MO
Nov 12
Dogwood Canyon Trail Runs
25K & 50K
Lampe, MO
Nov 18
Honoring Our Heroes
Marathon/Half/5K
Salem to Rolla, MO
Nov 18
White River Marathon for Kenya
Marathon/Half/5K
Cotter, AR
Nov 19
Route 66 Marathon
Half & Marathon
Tulsa, OK
Nov 19
Pilgrim Pacer Run
5K/10K, Half, Marathon
Shawnee, KS
Nov 29
AWS re:Invent 5K
5K
Las Vegas, NV
Dec 2
Alternate Chili Trail Run
10 miles
Kansas City, KS
Dec 2
Cheese & Sauerkraut 10-Miler
10 miles
Columbia
Dec 2
St. Jude Memphis Marathon Weekend
Marathon/Half/5K
Memphis, TN
Dec 9
You Don't Know Jack
200K/100K/75K/50K/25K/15K/5K & 100-mile
Carthage, MO
Dec 10
Half & Half / Double Half
Half & Marathon
Tulsa, OK
Dec 10
Honolulu Marathon
Todd Raney
Marathon
Honolulu, HI
Dec 16
Jacob Wells 3 Bridges Marathon
Marathon
Little Rock, AR
Dec 30
Run for the Ranch
Marathon, Marathon Relay, Half and 6-Hour Run
Springfield
* * * * *

TRIATHLONS AND DUATHLONS
IN MISSOURI AND VICINITY
2017

Date

Race Name

Distance(s)

Location

NOTE: HIGHLIGHTED DATES INDICATE THAT THE EVENT'S 2016 DATE HAS NOT YET BEEN ANNOUNCED AND/OR CONFIRMED
Apr 22

Ironman Texas Triathlon
Jim McDermott
2.4-mile swim, 112-mile bike, 26.2-mile run
The Woodlands, TX
Apr 23
The Chain of Rocks Bridge Duathlon
1.5-mile run, 12-mile bke, 1.5-mile run
St. Louis, MO
April 30
Trek for Trikes
Not a true duathlon (run/bike/run), but offers a 10K run or bike, or a 20K bike. Mostly on the Highline Trail. Event raises funds to provide adaptive tricycles to children with disabilities.
Bolivar, MO
May 7
Sprint triathlon: 400-meter pool swim, 14-mile bike, 3-mile run
Super sprint triathlon: 100-meter pool swim, 7-mile bike, 1-mile run
Duathlon: 1-mile run, 7-mile bike, 1-mile run
Columbia, MO
May 13
Trek for Trikes
Not a true duathlon (run/bike/run), but offers a 10K run or bike, or a 20K bike. Mostly on the Highline Trail. Event raises funds to provide adaptive tricycles to children with disabilities.
Bolivar, MO
May 14
Kansas City Triathlon

Sprint: 500-meter swim, 20K bike, 5K run
Olympic: 1.5K swim, 40K bike, 10K run
Duathlon: 1.5-mile run, 20K bike, 5K run
Kansas City, MO
May 21
St. Louis Triathlon
Sprint: 750-meter swim, 12.4-mile bike, 5K run
Olympic: 1500-meter swim, 24.8-mile bike, 10K run
St. Louis, MO
June 10
Halfmax Championship & Quartermax Triathlons
Halfmax Championship: 1.2-mile swim, 56-mile bike, 13.1-mile run
QuarterMax: 0.6-mile swim, 28-mile bike, 10K run

Innsbrook, MO
June 11
Jefferson City Triathlon &
Duathlon
Triathlon: 400-meter pool swim, 12-mile bike, 3.1-mile run
Duathlon: 12-mile bike, 3.1-mile run
Jefferson City, MO
June 17
Legend Free State Tri


Sprint: 500-yard swim, 12-mile bike, 5K run
Olympic: 1500-meter swim, 40K bike, 10K run
Legend 70: 1.2-mile swim, 56-mile bike, 13.1-mile run
Legend 100: 2-mile swim, 80-mile bike, 18-mile run

Lawrence, KS
June 17
Topeka Tinman Triathlon
Short course: 400-meter swim, 13-mile bike, 3.1-mile run
Long course: 1,000-meter swim, 19-mile bike, 7-mile run
Topeka, KS
Jun 24
Neosho Sprint Triathlon

Triathlon: 300-yard indoor pool swim, 12.5-mile bike, 3.1-mile run;

Neosho, MO
July 8
Big Shark New Town Kids Triathlon
0.62-mile swim, 20-mile bike, 4-mile run
New Town St. Charles, MO
July 9
Big Shark New Town Triathlon
0.62-mile swim, 20-mile bike, 4-mile run
New Town St. Charles, MO
July 9
Summer Roundup Triathlon
Sprint: 500-meter swim, 12.3-mile bike, 5K run
Olympic: 1500-meter swim, 40K bike, 10K run
Jasper, MO
July 9
Shawnee Mission Triathlon & Duathlon
Short course: 500-meter swim, 9-mile bike, 3.2-mile run
Long course: 1,000-meter swim, 18-mile bike, 4.5-mile run
Shawnee, KS
July 15
Mighty Max Kids Triathlon
Four age-appropriate distances for children up to age 14
Columbia, MO
July 23
Show-Me State Games Triathlon & Duathlon
Triathlon: 0.5-mile swim, 15-mile bike, 3-mile run
Duathlon: 15-mile bike, 3-mile run
Columbia, MO
July 29
WIN for KC Women's Triathlon
500-meter swim, 10-mile bike, 5K run
Smithville, MO
July 29
Route 66 Half Iron Triathlon
1.2-mile swim, 56-mile bike, 13.1-mile run
Springfield, IL
July 30
Lake Freebird Triathlon & Duathlon
Triathlon: 660-meter swim, 14-mile bike, 5K run
Beginners (non-competitive): 300-meter swim, 10-mile bike, 1.3-mile run
Duathlon: 14-mile bike, 5K run
Mountain Grove, MO
Aug 5
Warrensburg Triathlon
SuperKids Tri: (distances not available)
Trio-Tri: 3-person relay
"98.5 The Bar" Tri: 300-meter swim, 10-mile bike, 5K run
Warrensburg, MO
Aug 6
Stockton Lake Tri Wild-Life Challenge
Short course: 500-meter swim, 10.4-mile bike, 5K run
Long course: 1,000-meter swim, 20.8-mile bike, 10K run
Stockton, MO
Aug 6
Matt Mason Memorial Cowboy-UP! Triathlon
500-meter swim, 11-mile bike, 5K run
Kansas City, MO
Aug 11
Republic Youth Tigger Tri
Distances to be announced
Republic, MO
Aug12
Republic Tiger Tri
Super Sprint: 150-yard swim; 6.1-mile bike, 1.5-mile run
Classic Sprint: 300-yard swim, 12.2-mile bike, 5K run
Republic, MO
Aug 19
Lake St. Louis Triathlon
Short course: 0.25-mile swim, 12.3-mile bike, 2.5-mile run
Long course: 0.93-mile swim, 24-mile bike, 10K run
Lake St. Louis, MO
Aug 26
Cedar Creek Triathlon & Duathlon
Triathlon: 400-meter swim, 11-mile bike, 5K run
Duathlon: 1-mile run, 11-mile bike, 1-mile run
Olathe, KS
Sep 10
Legend Ad Astra Triathlon
Sprint: 500-yard swim, 12-mile bike, 5K run
Olympic: 1500-meter swim, 40K bike, 10K run
Legend 70: 1.2-mile swim, 56-mile bike, 13.1-mile run
Lawrence, KS
Sep 24
Sedalia Duathlon
Short course: 2-mile run, 8-mile bike, 1-mile run
Long course: 5K run, 30K bike, 5K run
Sedalia, MO
Sep 24
Border Wars Triathlon
1.2-mile swim, 56-mile bike, 13.1-mile run
Alton, IL
Sep 24
Ironman Chattanooga Triathlon
2.4-mile swim, 112-mile bike, 26.2-mile run
Chattanooga, TN
Oct 15
Ironman Louisville Triathlon

2.4-mile swim, 112-mile bike, 26.2-mile run
Louisville, KY
* * * * *

CYCLING EVENTS
IN MISSOURI AND VICINITY
2017

Date

Race/Event Name

Distance(s)

Location

NOTE: HIGHLIGHTED DATES INDICATE THAT THE EVENT'S 2016 DATE HAS NOT YET BEEN ANNOUNCED AND/OR CONFIRMED
Jan 15
Rocheport Roubaix
30, 50 and 70 miles
Rocheport, MO
April 10
MoBikeFed Ride with Legislators
Jefferson City, MO
April 29
The Epic (gravel road bike races)
150 and 80 miles
Lake of the Ozarks
May 13
Vino Fondo
38, 58, 91 and 118 miles
Augusta, MO
May 21
The Hairy Hundred
100-mile gravel road race
Katy Trail near Columbia, MO
May 21
Down 'n Dirty
Varies by division
Warsaw, MO
May 27-28
Pedaler's Jamboree
Music and cycling event on the Katy Trail
Columbia, MO
May 29
Tour of Kansas City Gran Fondo
20, 50, 60, 75 and 100 miles
Kansas City, MO
June 3
Dirty Kanza 200
200 miles
Emporia, KS
June 3
Tour de Cure
10, 30, 50 and 100 miles
Alton, IL
Jun 10-16
Big BAM
Bicycle ride across Missouri
Weston to Louisiana, MO
June 10
Cycle for Life
10, 25 and 50 miles
Ozark, MO
June 17
Queen City Century
22, 45, 60, 82 and 100 miles
Springfield, MO
June 24
Tour de Lakes
10, 32, 55 and 65 miles
Lee's Summit, MO
July 15
World Naked Bike Ride--St. Louis
St. Louis, MO
July 22
Show-Me State Games Road Cycling Race
19 and 28 miles
Callaway County, MO
July 30
Show-Me State Games Mountain Bike Race
1, 1-1/2, and 3 hours
Columbia, MO
Aug 5
MO State Time Trial Championship
20K or 40K, depending on division
Centraiia, MO
Aug 5
Moonlight Ramble
10.5 and 18.5 miles
St. Louis, MO
Aug 19
Svitak Freedom Ride
10, 25, 40, 67 and 100 miles
Springfield, MO
Aug 26
Red Shoe Ride
35, 60 and 100 miles
Columbia, MO
Aug 26
BikeMO
30, 65 and 90 miles (24 and 50 miles for Katy Trail option)
Rocheport, MO
Sep 1-3
Singletrackmind Festival
Mountain biking, trail runs, etc. on the Two Rivers Bike Trail
Springfield, MO
Sep 9-10
Bike MS
Four distances offered
Godfrey, IL
Sep 17
Mountain Madness
Mountain bike races
Warsaw, MO
Sep 23
Tour de BBQ
15, 35 and 62 miles
Overland Park, KS
Sep 23-24
Pedal the Cause
15, 25, 37, 50, 75 & 100 miles
St. Louis, MO
Sep 25
Rhett's Run
Mountain bike race
Columbia, MO
Oct 1
Tour de Wildwood
28 and 45 miles
Wildwood, MO
Oct 7
Cystic Fibrosis Cycle for Life
25, 50 and 100 miles
St. Charles, MO
Oct 14-15
Hartsburg Pumpkin Festival Ride
9.5 miles from Jefferson City on the Katy Trail
Oct 8
Tour de Bass Bike Rides
25, 42, 77 and 102 miles
Springfield, MO
Oct 14
Cuban Gravel Crisis
20, 50 and 100 mile bike rides; 5K run
Cuba, MO
Oct 21
BT Epic
Mountain bike race on the Berryman Trail
Steelville, MO
Nov 4
Red Dog 100
Gravel road race
Jefferson City, MO
* * * * *

PADDLING EVENTS
IN MISSOURI AND VICINITY
2017

Date

Race Name & River

Distance(s) & Boat Type

Location

NOTE: HIGHLIGHTED DATES INDICATE THAT THE EVENT'S 2016 DATE HAS NOT YET BEEN ANNOUNCED AND/OR CONFIRMED
May 31
Lake Race "Paddle Battle"
Paddleboard races
Lake of the Ozarks
June 10-11
Osage Howler
Trevor Dowdney (61 miles)
Race: 61 miles
Fun Run: 14 miles
Osage River
July 22
Firecracker Race
(Mississippi River -- Alton Pool)
Canoes & kayaks -- 12 miles
Paddlboards -- 3 miles
Alton, IL
Aug 27
Race for the Rivers
(Missouri River)
20 and 40 miles; canoes & kayaks
Washington, MO
Sep 9
Finger Lakes Adventure Challenge
(Finger Lakes State Park)
5K paddle, then 5K run
Columbia, MO
Sep xx


(cancelled for 2017)

Fall 36 Race
(Osage, Missouri and Gasconade Rivers)
36 miles
Canoes, kayaks & paddleboards
Starts near Loose Creek; ends at Gasconade
Sep 30
Race to the Dome
(Missouri River)
Providence (26.6 miles) or Hartsburg (15.8 miles) to Jefferson City
Jefferson City, MO
Oct 28
Chattajack 31
(Tennessee River)

31 miles; paddleboard & kayaks
Chattanooga, TN