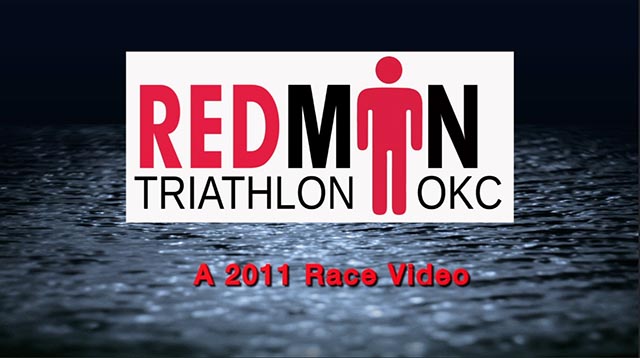 On September 24, 2011, I participated in the Redman Triathlon in Oklahoma City, Oklahoma. It was my fourth trip to Redman to compete in the full (or "iron") distance race, which included a 2.4-mile swim, 112-mile bike, and a 26.2-mile run.
After weeks of indecision whether it would be wise to buy and carry a small camera with me during the entire 140.6-mile race, I went ahead and bought a small Canon model just two days before the event. In hindsight, it was a great decision. I took lots of photos and recorded lots of video footage during the race, and they turned out to be priceless images from a long, memorable day. Buying and carrying that new camera was one of the best decisions I've made in recent memory.
I hope you enjoy the video. While the race took about 15-1/2 hours to complete, the video took well over 100. The memories in it, though, will last a lifetime.

Viewing Options
This video was recorded in high definition, and the resulting file size is very large. A high-speed Internet connection is necessary to view it. To accommodate varying Internet speeds, the video is available in two versions: A slightly lower-quality version designed for Internet streaming at around 3 megabits per second (Mbps), and a higher-quality version at 5 Mbps. Both versions are displayed in a screen size of 1280 by 720, although the file sizes vary considerably. The video is 23:54 in length.
Instead of, or in addition to, streaming the video, you can choose to download it. Once again, you can choose between two files sizes. If you choose to download the video, please read the Video Download Instructions shown below before doing so.
Note: The streaming option has been temporarily disabled due to bandwidth issues with the web hosting company. In the meantime, please view the video on YouTube (embedded above), or download the video.
Video Download Instructions
Because of legal issues over piracy, Internet browsers don't offer easy, built-in means of downloading video files. (Yes, there are some third-party browser add-ons available to make downloading easy, but not everyone has one installed.) To sidestep that obstacle, I've provided a roundabout way of easily downloading this video regardless of which browser you use. There are only a few steps, and they make look strange, but this approach is relatively easy and works well. Basically, we're making the browser think the video file is a document file--which browsers download quite easily--and then you can "convert" it to a video file just by changing its extension.
Please read these instructions carefully:
Click on the "Download" link of the video version you'd like to download.
Depending on which browser you use, you may see a dialog box open, asking whether you want to open the file, or save it. Choose "Save File", and then hit "OK". Some browsers may not open a dialog box, and simply begin downloading the file. If it begins downloading, skip to step 4.
Again, depending on your browser, another dialog box may open, asking where you want to save the file on your computer. Choose a location, then hit "Save". The file will then download.
THIS STEP IS IMPORTANT! Once the file has finished downloading and has been saved to your computer, you have to change the file's extension from .doc to .mov
You may get an "Are you sure?" or similar warning about changing the file's extension, but ignore the warning and make the change. You're done.
The video is in Apple's QuickTime format, and can be played with QuickTime Player and many other video players.
If you have any problems, please let me know and I'll do my best to help.